Protect and leverage data automatically by replicating across platforms and sites.
EnduraData file replication is trusted by agencies, universities, clinics, health care companies, managed service providers, legal firms and financial firms to deliver data, sync it, protect it.
EDpCloud synchronizes data in your data center, in the cloud or wherever you want it to run. It runs on physical machines, virtual machines or in the cloud.
Be free! Leverage your own hardware, PaaS or the cloud.
Replicate and synchronize data between different storage, operating systems, hardware and locations.
Some Features of EDpCloud File Replication Software
Filter using include file name patterns
Filter using exclude file name patterns
Filter using dates and times
Bandwidth throttling
SSL certificates
Access control
Management console
CLI or browser management
Archives
Snapshots
Adaptive compression
Parallel transfer streams and I/O
Control CPU & network usage with resource allocation
Replicate metadata
Supports VMs
Supports Physical machines
Supports Linux containers
Real time, Scheduled or On demand/Adhoc data replication
Replicate and access control lists
Control replication & transfer times
Pause file replication automatically as needed
Resume file replication
Reduce vulnerability windows
Flexible replication and transfer topologies
Replicate from one source to many destinations
Replicate from many sources to many destinations
Improve ransomware tolerance.
One to Many File Replication
Use EDpCloud real time data synchronization software to move data automatically from one location to many locations. Keep all locations in sync.
Synchronize files from many locations to a single location. Or use a mesh to create complex data movement and synchronization topologies to meet your needs.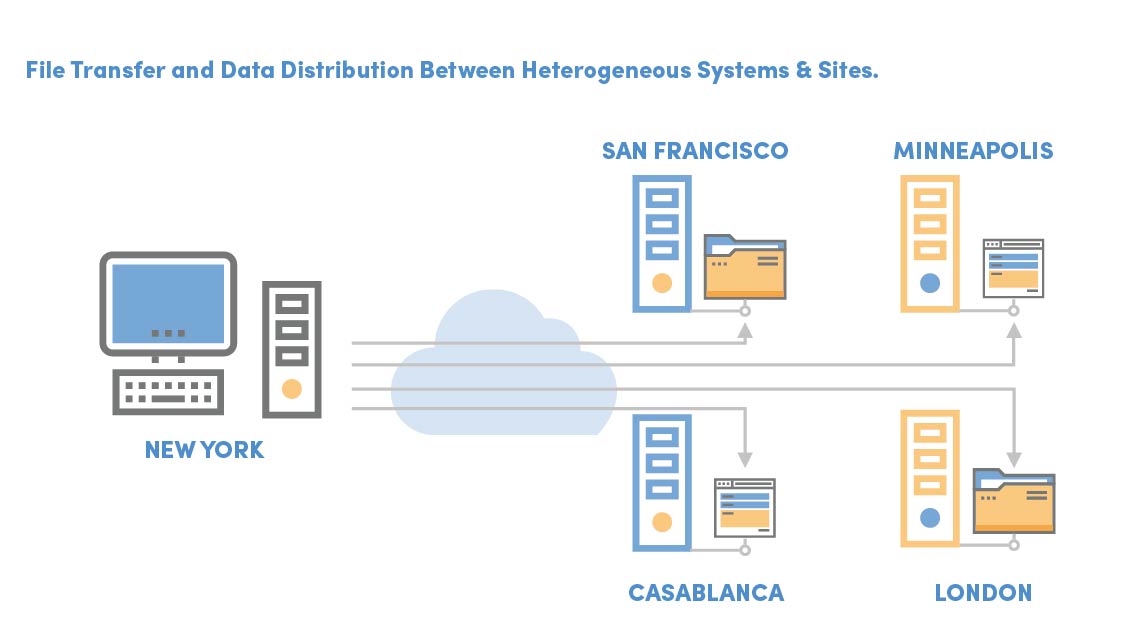 EDpCloud Real time and scheduled data replication software for the enterprise and SMB will help you protect and leverage your data.
EnduraData's EDpCloud cross platform file replication and data synchronization software solution will help you protect your data by synchronizing it in real time to one or more remote locations.
Many to One File Replication
 In case of a disaster, your data is readily available for use without the need of a lengthy restore. Your data is the lifeblood of your business. Lose it and you risk going out of business.
Leak it and the costs and risks to you will be astronomical. Leverage your data and gain a competitive edge.
Replicate between branch offices, partners, to the cloud and between clouds.
Let EnduraData's data synchronization software move your data between geographic sites. Let it mirror files between servers running the same or different operating systems. Let EnduraData help you cut costs and risks.
Extremely fast & reliable file replication and data synchronization software solution.
---
We leveraged our experiences working on high speed communications, parallel computing, file systems, storage and Intel to perfect the performance, reliability and security of EDpCloud data synchronization software.
EnduraData listened to engineers, system administrators, storage network managers, operations and data scientists to come up with what they need: EDpCloud. One solution for many of IT's and Operations' major challenges: How can we protect and leverage data.
Other Features of EDpCloud File Replication Software
Replicate from many sites to one or more sites
Create a hub-spoke replication configurations
Create replication trees to cascade content
Bidirectional server replication and file mirroring
Replicate between different storage
Replicate data between different operating systems
Works in LAN, WAN, etc.
Replicate from VMs or to VMs
Replicate from/to physical machines
Replicate between branch offices
Cross platform replication software: Linux, Windows, Mac, Solaris, UNIX
Low memory footprint and high performance
Alerts and notifications
Reporting
Audit logs
History of transactions on all sides
Use any type of storage
Multiple transport streams
Multiple delivery paths for fault tolerance.
Configure EDpCloud and go do other tasks
---
REAL TIME SYNC

Any changes on the local system will be replicated to one or more remote systems.

MEET YOUR DATA DELIVERY TIMES

Fulfill your contracts and obligations by delivering data when needed.

SCHEDULED FILE SYNC

You can replicate in real time or create replication schedules.

ADHOC & ONDEMAND

Replicate as needed.

SNAPSHOTS

Create as many snapshots and you need, in one or many locations.

BUILD APPLICATIONS WITH REPLICATION

Call EDpCloud from your own applications to replicate data on demand.
Download EDpCloud Software Now
Your backups and file synchronization will be automated and secured
EDpCloud is flexible. It offers you real time replication, scheduled replication or on demand replication. Furthermore, EDpCloud can be managed using a CLI or a web browser. You can use the CLI to integrate the solution with applications and operations.
Check out how EDpCloud will reduce costs, risks and increase efficiency:
---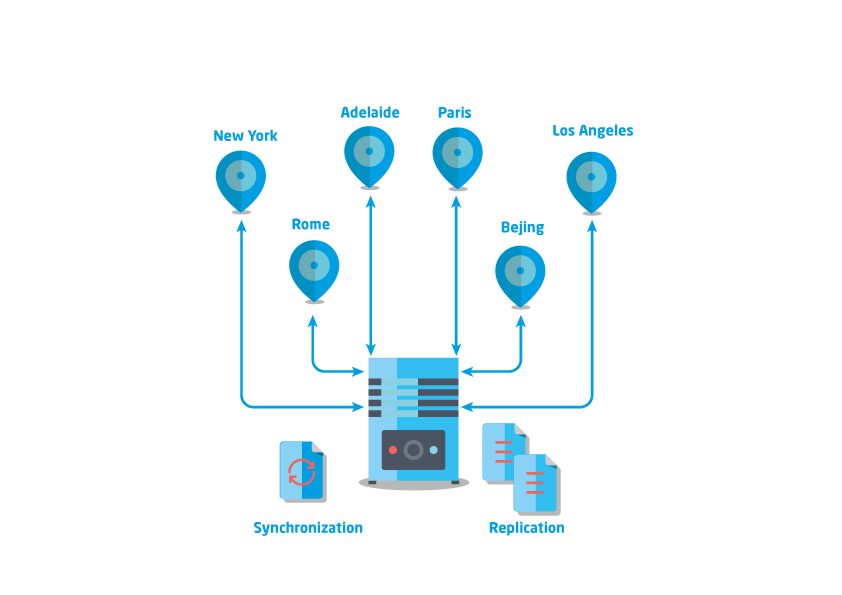 Install, Configure and forget about it
Want to move data automatically between offices? data centers? or between clouds? You are running Linux, Windows, Mac, Solaris, AIX or other Unix?
Want to exchange data automatically and securely between branch offices or partners? Want to migrate data? Want to protect data?
Simply install and configure EDpCloud automated secure file replication and let it do the rest.
Sync all your files to one or more servers located on the same LAN or to data centers in a different country or continent.
---
Create simple or complex configurations. Use CLI to manage and integrate with your workflow and operations or use a browser to configure and manage. Pause replication as needed. EDpCloud will continue to keep track of the file changes and apply them when you resume EDpCloud.
Not happy with your cloud provider?
---
EDpCloud will help you migrate from one cloud provider to another one. Don't want to trust your data to the cloud provider?
 Encrypt it before it leaves the data center or provide your own hosting or colo. EDpCloud is versatile. It works on your existing infrastructure or other cloud providers. EnduraData will be there to help you solve these challenges.
Read more about EDpCloud features.
When we noticed our customers move clinical data, commerce or intelligence data between countries, we optimized for latency as well as for protecting data from leaks. We spent years moving data around the globe. We learned from it and we put that knowledge in EDpCloud to help customers move and secure their digital assets.

"We make data move faster between all places in a secure way"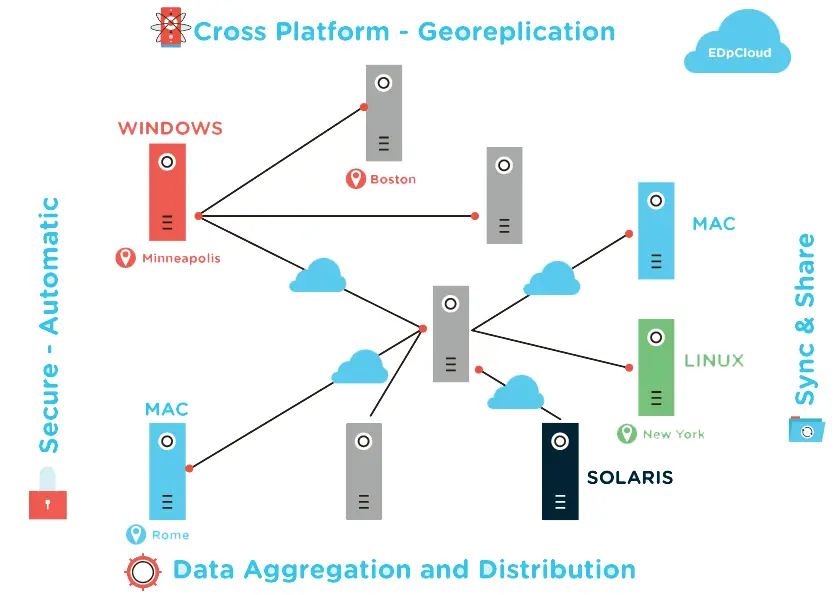 Features
was last modified:
July 25th, 2023
by